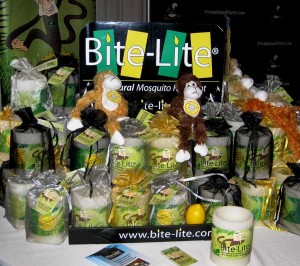 It's easy to spot a winner. That's why Bite-Lite® Natural Mosquito Repellent Candles were seen at the the A-list Preview Party for The Grammy's. There was lots of buzz from the celebrity attendees at yesterday's event about our incredible natural repellents AND the Bite-Lite® Monkey. Everyone found them irresistable – we have a hit on our hands! The Bite-Lite® Monkey and pals handed out samples for the stars to try. The celebs will be getting back to us on our website, Facebook, and Twitter after trying out our natural mosquito repellent candles. Watch for updates on how much they liked them – check back often and see what they have to say! Check out photos on the Bite-Lite® Candles Facebook page.
How do you spot a winner for The Grammy's?
Members of the Recording Industry Association of America and record companies submit recordings and music videos that have been released during the eligibility year. These submissions are then tested for eligibility and placed in the correct category.
Ballots are sent out to the voting members of the association. To become a voting member of the association, an individual must be a music industry professional with creative or technical credits on six commercially released tracks.
Finally, the long list of submissions has been pared down the final nominees and a second ballot is sent out for 20 specific categories and four general categories.
The winner of the award remains in a sealed envelope until the big reveal on TV. The 54th Grammy's winners will be announced this Sunday February 12th at 8/7c on CBS.
To get your winning Bite-Lite® Candles, check your local Retailers or shop our Products page. It's not a big secret; it's simply nature at its best. Check our video to discover why a monkey gets most of the credit. Order your natural repellent candles today!