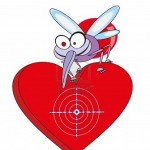 We have spent lifetimes defining the elusive chemistry between people. Artists have painted pictures, and poets have dedicated sonnets.
Scientists have now committed time, money, and technology, trying to determine what attracts mosquitoes. Over 400 different compounds were examined. The scientists identified certain elements of our body chemistry, that, when found in excess on the skin's surface, make mosquitoes swarm closer.
Mosquitoes' Personal Checklist of Preferences
Carbon Dioxide is a far reaching scent, especially strong in pregnant women and heavy set people.
Mosquitoes also target people who produce excess amounts of certain acids, such as uric acid.
Lactic acid from your sweat glands.
These substances can trigger mosquitoes' sense of smell, luring them to land on unsuspecting victims.
Mosquitoes have been around for 170 million years — and more than 175 known species in the U.S., these shrewd summertime pests clearly aren't going to disappear any time soon.
The very best way to combat mosquitoes, based on this new scientific research, is to disable mosquitoes sensors. Bite-lite® Natural Mosquito Repellent Candles do just that. Key essential oils, when found in combination, effectively disable the mosquito's sensors. These natural repellents represent that solution. Bite-lite® candles are exceptionally effective, smell wonderful, and look elegant. These candles are three times more effective than standard Citronella candles.
You can purchase our natural repellent candles at your local Retailer or on our Products page.
Inspired By Nature, Designed By Scientists