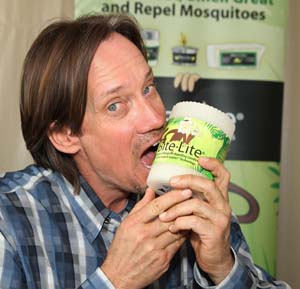 Kevin Sorbo takes a bite out of Bite-Lite Candle!
If you've been following our At The Grammys and At The Oscars pages on our website, you already know that Hollywood celebrities really love  Bite-Lite® NATURAL Mosquito Repellent Candles!   After successful appearances at these two events, Bite-Lite® has been invited back to Hollywood to appear at a special Rodeo Drive event for the 2012 MTV Movie Awards on May 31st.  The Stars will be there to help bring awareness to the charity Children of the Night.
We'll let you know which stars are there and who stops by to get their special gift from Bite-Lite – check our Facebook page or follow @bitelite for updates.   The 2012 MTV Movie Awards Show is Sunday June 3rd at 9 pm EST on MTV.   You can still vote for your favorite movie and stars on the show's website – watch and see who wins this popular film industry event!