Danbury, CT -July 12, 2013 . . . Local family business Bite-Lite, LLC began its mission in 2010 to create natural mosquito repellent candle products that smell good, look great, and actually work!
The Bite-Lite® Candle Collection includes four styles that you can use anywhere!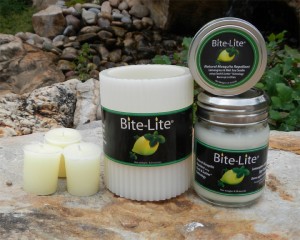 While observing monkeys at the Jungle Friends Primate Sanctuary in Florida, a research zoologist noted that monkeys, when presented with lemons or limes, will immediately rub the fruit on their fur, presumably to repel biting insects. Bite-Lite's scientists further studied this phenomenon called "anointing" behavior and determined that these citrus materials represented a potential source of new mosquito repellents.
Through field testing of its candles in the Florida swamps in 2011, Bite-Lite's active ingredients using Cloak and Scatter® technology, proved to be an effective, natural alternative to the typical candle repellents made from synthetic chemicals or only Citronella oil, the latter method repelling mosquitoes by unwanted smoke and soot.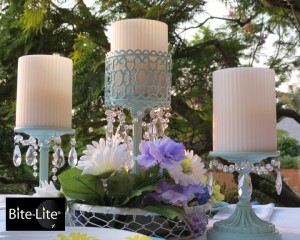 Dress up your Bite-Lite® Natural Mosquito Repellent Candles for an elegant look when dining outdoors
During the past three years, Bite-Lite® continues to blend, source, quality test, and improve its proprietary formula in Danbury, CT. Four stylish mosquito-repelling candles are available to fit every occasion whether it is camping, hiking, barbecuing, dining al fresco, outdoor events and elegant weddings. The lemongrass and mint scent released from the candles is safe for children, adults, and pets.
Go to our Retailers page and find these exceptional candles at your favorite garden center, hardware store, and grocer. Or shop now on our Products page. To learn more about Bite-Lite® Natural Mosquito Repellent Candles and the monkeys that inspired the formula, please explore our website and also view the Monkey Video (https://bite-lite.com/monkey-business).