Mosquitoes Are Hibernating.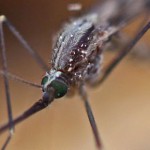 With 200 species of mosquitoes in North America and over 2500 species worldwide, we should have guessed they would evolve and conquer the cold weather.
Mosquitoes, like all insects, are cold-blooded creatures. As a result, their body temperatures are the same as their surroundings. In temperate climates, adult mosquitoes become inactive with the onset of cool weather and enter hibernation to live through the winter. In spring, the females emerge from hibernation, find a blood meal, and lay their eggs.
Some Mosquitoes can lay eggs which can survive extreme weather, such as cold, ice and draught. Rains produced by Spring rains, melting snow, and ice will cause eggs to hatch. These mosquitoes can be hardier than most species.
In warmer climates of the Southeast and Gulf, mosquitoes can thrive year round.
Since mosquitoes are vigilant year round, we need to stay on our game. Stay protected with Bite-Lite® Natural Mosquito Repellent Candles, available from your local Retailer or on our Product page.
Make The Day Count~