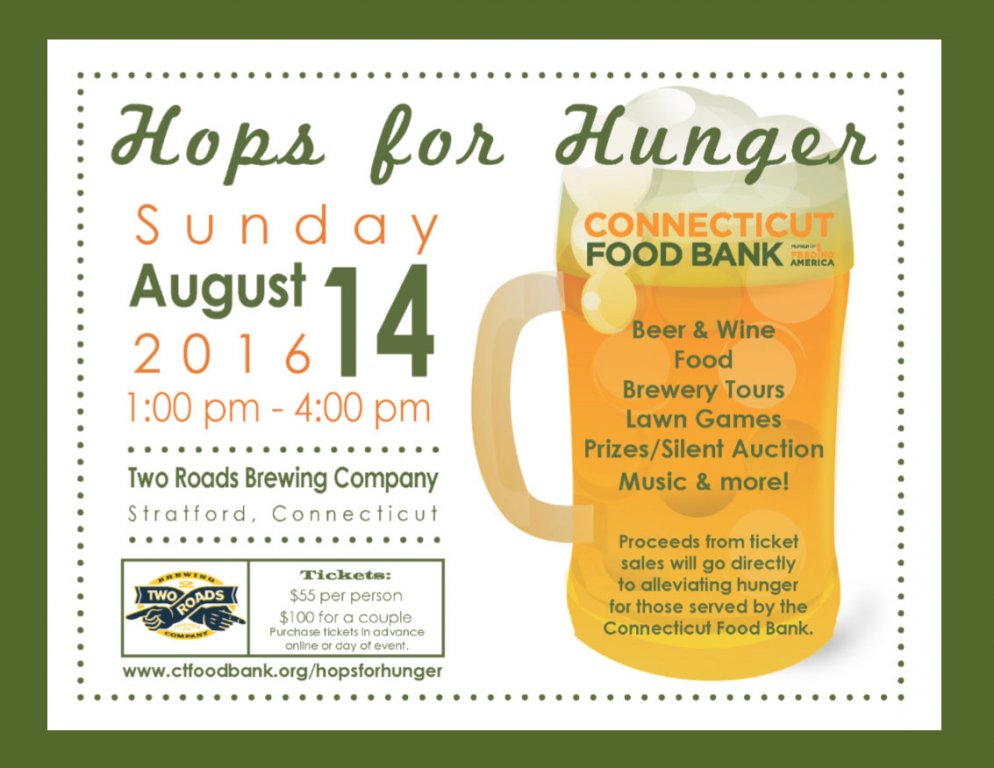 For the second time this summer, Bite-Lite will support the Connecticut Food Bank in its latest fundraiser to help alleviate hunger in Connecticut. The event taking place on Sunday, August 14th from 1 p.m. to 4 p.m. is Hops for Hunger and there are a number of fun events planned for those attending the first annual event at the Two Roads Brewing Company at 1700 Stratford Avenue in Stratford.   
The attractions include the sampling of 11 local craft beers, food and wine from three local food trucks, lawn games, music by Radio Partner iHeart Radio, and a silent auction containing 17 items and four restaurant gift certificates at press time. Bite-Lite is donating its American made natural mosquito repellent candles and its new indoor insect light trap. Admission will cost $55 per person or $100 per couple, and tickets can be obtained in advance online or at the event. The price will also include beverages from the bar.
"This is a fun way to connect with us and support our hunger relief mission," said Connecticut Food Bank Engagement Coordinator Kerri Burgerhoff. "Come for great beers and delicious food and be prepared to be tempted by auction items including scuba lessons, jewelry, Miranda Lambert concert tickets, fishing charters and more." Burgerhoff said.
Burgerhoff said the Food Trucks already committed for the event include: The Meat Truck, a gourmet sandwich truck; Tipsy Cones, an ice cream truck featuring bartender style flavors; and Zuppardi's Apizza, featuring New Haven style pizza.  Bite-Lite and TranSigma are Food Truck Row sponsors. 
"We are grateful to our sponsors and partners for helping to support the work of the Connecticut Food Bank," Burgerhoff said. "Last year, with the help of donors across Connecticut, we were able to distribute enough food to our network of food assistance programs to provide more than 19.2 million meals."
"The funds raised at Hops for Hunger will help us to continue providing the fresh, nutritious food that people need," Burgerhoff said.  More than 35% of the food distributed last year by the Connecticut Food Bank was fresh produce. "Fresh, food, dairy products and frozen meat are important nutritionally for families and they are often out of reach for people who are food insecure. We are helping ensure healthier outcomes for people and helping children get the food they need to learn and grow."
All proceeds will benefit the Connecticut Food Bank. Admission is limited to persons aged 21 or older and who show a photo ID.   More information is available at www.ctfoodbank.org or contact [email protected].
About the Connecticut Food Bank:
The Connecticut Food Bank is committed to alleviating hunger in Connecticut by providing food resources, raising awareness of the challenges of hunger, and advocating for people who need help meeting basic needs. The Connecticut Food Bank partners with the food industry, food growers, donors, and volunteers to provide food, which last year provided 19.2 million meals. The organization distributes that food through a network of community based programs to six Connecticut counties – Fairfield, Litchfield, Middlesex, New Haven, New London, and Windham counties – where more than 300,000 people struggle with hunger.  For more information, go to www.ctfoodbank.org, www.facebook.com/ctfoodbank, or follow @CTFoodBank on Twitter and Instagram.