Bite-Lite® Candles at the Grammy's Red Carpet Event!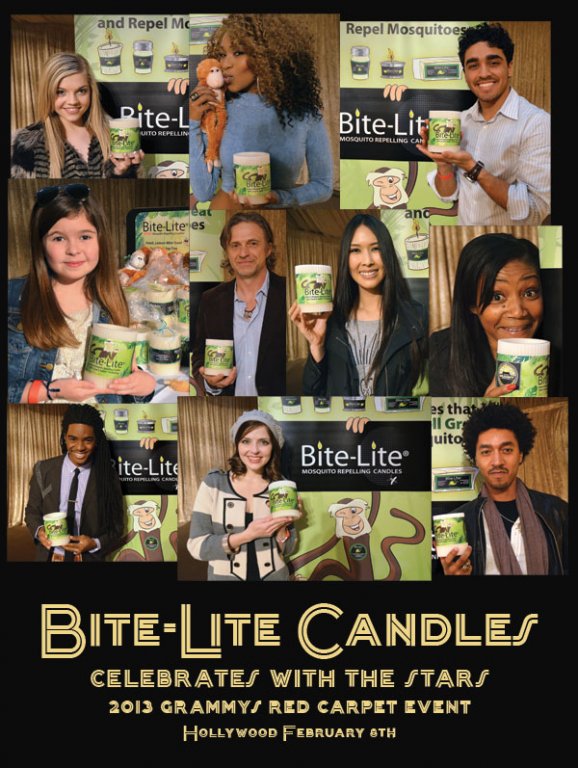 Grammys Poster Photos left to right starting at Top: Shauna Case, TV series "Incredible Crew"; Porscha Coleman, Actress/Singer; E J Bonilla, Actor, "Revenge" Middle: Allison Rieke, Actress, Nickelodeon pilot; George Tasudis, Actor, "NCIS, CSI:NY, Burn Notice"; Malana Lea, Actress, new movie "Olympus Has Fallen" – stars Gerad Butler; Tiffany Haddish, Comedian/Actress Bottom: Yael Tygiel, Boy Band "Social Network"; Jen Lilly, Actress, movie "The Artist", General Hospital; Shawn Carter Peterson, Actor, new movie "The Host" – with Saoirse Ronan (by Twilight Author Stephenie Meyer)
Here's just a few of the rising stars (and some veteran actors/singers as well) who stopped by to visit the Bite-Lite® Monkey and team and learn all about our famous Natural Mosquito Repellent Candles. This exclusive Grammy's Red Carpet event was held at the iconic Hyatt Regency Century Plaza Hotel in Beverly Hills on February 8th. Celebrities received gifts for themselves and for the upcoming Valentine's Day!