Happy Thanksgiving ~ Shop Bite-Lite® Today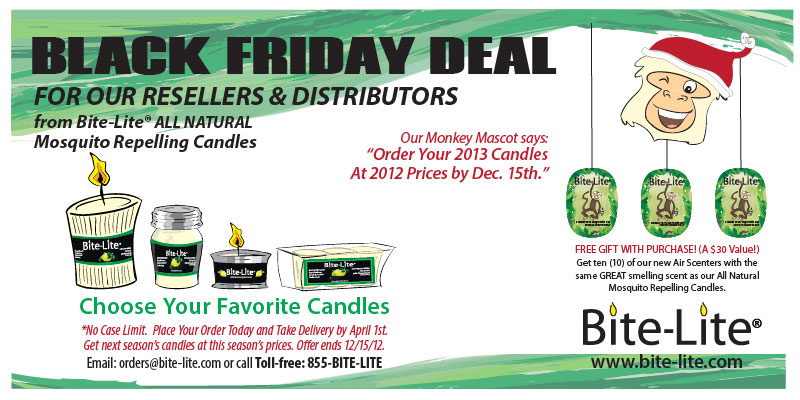 We would like to thank our Resellers and Distributors who do such a great job for us. In thankfulness, during this Holiday Week, we are giving you a great opportunity to get an early Christmas Gift for your business. You can purchase the inventory you need for the 2013 season now at the current 2012 prices. Take delivery of our natural mosquito repellent candles by April 1st, 2012; no need to carry inventory before next year's selling season. You'll get a FREE GIFT of 10 Air Scenters, our newest product, with your first case purchase.
Our BLACK FRIDAY DEAL is only available until December 15th, so take advantage of it soon and enjoy the savings that transfer to extra income in the New Year.
You'll want to try our new Bite-Lite® Air Scenters, too. They have the same fresh lemon mint scent as our Natural Mosquito Repellent Candles, and make a great stocking stuffer for this holiday season! Call today and we'll send your order out right away.
To place an order for this special deal, call toll free: 855-BITE-LITE (855-248-3548), or e-mail [email protected].

Thanks to All, The Bite-Lite Team